Mark Kendall (Great White) - Interview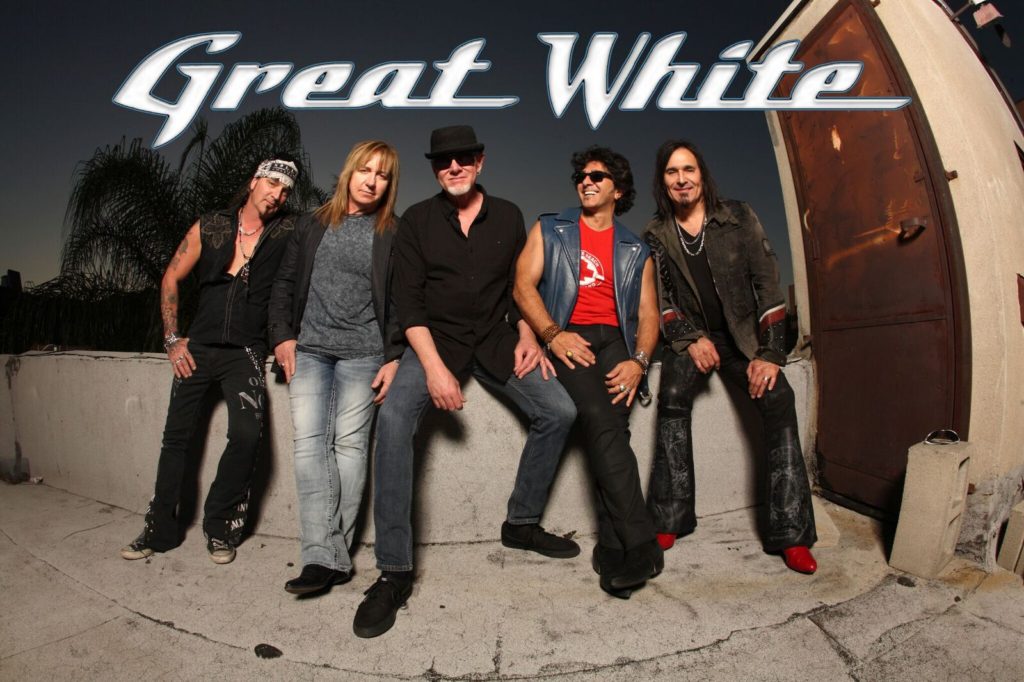 R'n'R : You come from a musically talented family. Can you tell me more ?

MK : My father was a professional jazz trumpet player, my mother was a singer and my Grandfather was a touring piano player and very accomplished! As a young boy there was always music in the house. I caught on to melody at a very young age. My ear was very good. I used to sit by our record player and sing along and I loved the melody ! I remember my mother telling my dad, he sings in key! I was only 5 yrs old. My ear definitely comes from them, my father had perfect pitch. We would hit piano notes and my dad would tell us what they were. My mother knew because she played piano. I didn't realize it was any big deal until I got older. I still can't believe he could do that!!

R'nR : I think your father was very important in your musical education. He gave you your first guitar. Do you remember this moment ?

MK : Yes, I used to watch a band across the street from my house practice in a garage through a side window. They were called "7th Street Subway". One day I saw the bass player play with his teeth and ran home and begged my dad for a guitar. The very next day he gave me a Spanish acoustic called a Kay guitar. It was cheap, I think he wanted to see if I would take interest. I don't think I put it down for a year. I learned chords from neighbors who knew how to play. After a year I was learning songs off of records. The first song I learned was For Your Love by the Yardbirds. That Christmas my dad surprised me with an electric Kay guitar and Kay amplifier. I performed in my 4th grade class for the 5th grade class with another guitar player. We played Gloria, Pipeline, Wipeout and Secret Agent Man.

R'n'R : What are the first records you bought ?

MK : My dad got me Cream "Disraeli Gears", Doors "Strange Days" and Jimi Hendrix "Experience" for my first 3 records.

R'n'R : Alan Niven discovered Great White in 1982. How did it happen ?

MK : We tried to play more than anyone back then to put ourselves in a position to be lucky. One night Niven was in the crowd and after the show he gave us his card and said come down to his office the following day. The next day he said he liked us but hated our name Dante Fox. He said he has the new name Great White. He said later how he came up with it. He said I drove by the club and stuck my head out the window and screamed something into the crowd. Niven was standing in front of the club and said a guy next to him said, there goes Great White !! He said something clicked in his head right then and he thought, that's their name.
Click to watch the video of Rock Me with Terry Ilous singing


R'n'R : What means Led Zeppelin for you ?

MK : Good memories. I love the way Page orchestrates guitars in the studio. I don't think there is anyone that orchestrates guitars better than Jimmy Page. Extremely great everlasting songs!

R'N'R : Great White sold many records in the 80's. Is it more difficult today to sell records ?

MK : I believe it is harder. I was really pleased to have a great white greatest hits go gold recently. Due to record stores being gone, downloading makes it nearly impossible to sell a million records for anyone from our era. We just try to get our new music to the fans with promotion teams that know the Internet well. We have no radio or MTV anymore. So the only place new music can be heard is on the internet and Satellite radio. We have to make new music, it's our favorite thing to do. We don't want to become a greatest hits oldies band.

R'n'R : Europe and France are a very difficult market for Great White. How do you explain that ?

MK : For some reason Alan Niven kept us out of Europe and we just toured the U.S. and played festivals in Europe.
In the very early going we went back to England 4 times before we were accepted. Then we backed off, after touring with Alice Cooper in 1989. I have know idea why? It's hard to recover from that...
Click to watch the video of Angel Song (Great White) with Jack Russell singing

R'n'R : Great White had some problems after Jack Russell used without your permission the name of Great White. Finally it ended well since you (the band) allowed him to use the name Jack Russell's Great White. In what terms are you with Jack today ?

MK : We won the rights to the Great White name in Federal Court. We made a way for Jack to making a living by letting him call his band Jack Russell's Great White, as long his name was prominent in all advertising, so the fans weren't confused about what they were going to see.

R'n'R : Many fans blame you that Jack Russell is not anymore in Great White ? What do you answer them ?

MK : We've never even got in a fight. He couldn't stand anymore playing live. He had to sit on a stool and perform and that was no fun for anyone. He struggled to stay sober and he was randomly falling down, so we felt the best thing for him would be to go get well and come back healthy. After a year he still wasn't better and he made a cover version with guys who would accept him the way he was. We won't cheat our fans, with subpar shows. We were waiting for him to return and while waiting, we were sued by him. He wanted to leave and take our band name. He chose his path, not us. It was a shame. I work with addicts on a daily basis, some turn their life around and some don't, it's unfortunate. For myself, i think Terry Ilous is a good choice for the band.
Click to watch the video of (I've Got) Something For You (2012)
R'n'R : What are you the most proud in your career ?

MK : How hard we fought and worked to make it is my proudest moment!

R'n'R : Despite many problems in its career, Great White is still alive. How do you explain that ?

MK : The music always wins over the drama, most of what is untrue
...

R'n'R : Great White like to play some covers (Substitute, Face the Day, Once Bitten Twice Shy...). Do you plan to cover other songs in the future ?

MK : Alan Niven came with all cover song ideas. We don't have any on our new album.

R'n'R : Your new album will be released soon. The second one with Terry Ilous. How is it different from Elation (2012) ?

MK : Well first of all Michael Wagener produced the album. He is a task master who has sold in excess of 98 million in his career. I think any doubters out there about Terry Ilous will change their minds after they hear this album. It's one of the best vocal performances I've ever heard. You'll hear his true ability on this one. This album rocks with big heavy grooves. It has the best ballad the band has ever written and every song is amazing. There will be no fast forwarding on this one, that's the difference. Plus the fact we've played with Terry for 6 years and we're tight.

R'n'R : Can i have some words about the songs of this album and about the singing of our frenchy Terry Ilous ?

MK : I'll give you all the song titles and album title, when it's closer to the release date, which should be on or before June 1st. I will say this though, we had a professional film crew capture the entire recording process and we will include the Blu Ray with the new release. I thought it would be fun to bring the fans into the studio to see how songs develop, and how we make records.

R'n'R : The great Michael Wagener produced your new album. Why did you choose him and what new things did he bring in the Great White's sound ?

MK : We wanted something to be excited about instead of doing it the same way. We needed a change ! He brought a great personality, he made it fun, the production is at the highest level and it was nice having his ears for suggestions.
The man is s genius !! One of our very best records to date !!

R'n'R : Will you come in Europe to tour to promote the new album ?

MK : We are working on that very hard now. We have to play Europe and Japan!
Published on april 11, 2017