John Diva and The Rockets of Love - Mama Said Rock Is Dead
With John Diva & The Rockets of Love, we go back over thirty years and we return in these good 80s and its colorful and peroxydized bands. Whitesnake, Poison, Kiss, Guns'n'Roses, LA Guns, Mötley Crüe and others. Fantastic clothes, hats and guitars in front. The album is called Mama Said Rock Is Dead. What if mom was wrong?

Whiplash is a first rhythmic bomb worthy of Alex Van Halen and Michael Anthony of Van Halen. Big guitars, huge production of Michael Voss, big rock as they say, at its best. And melodic, which does not spoil anything. Snake Rocket and J.J. Love, the guitarists being rather talented. Lolita smells Californian beaches, girls in bathing suits and hot sun, as well as sand.
Click here to watch the video of Lolita

Rock'n'Roll Heaven is a hit in power. Acoustic, electric, bluesy and comes to tickle from time to time the Guns'n'Roses from the 80s. An excellent title that will become a hymn to life at the concerts of "Rockets of Love". The songs follow each other and are all of excellent quality. Certainly, nothing revolutionary, rock is not changed, but it's done with talent, envy, all on a modern production and very 80's at a time. Wild Wild Life and its heavy rhythms like the gates of Hell and its irresistible chorus, the melodic and powerful Blinded, the unstoppable Dance Dirty, and the sublime piano ballad, Just A Night Away on which John Diva is impeccable on vocals. A classic ballad, surely but beautiful and effective. It will crack more than one tough guy, believe me.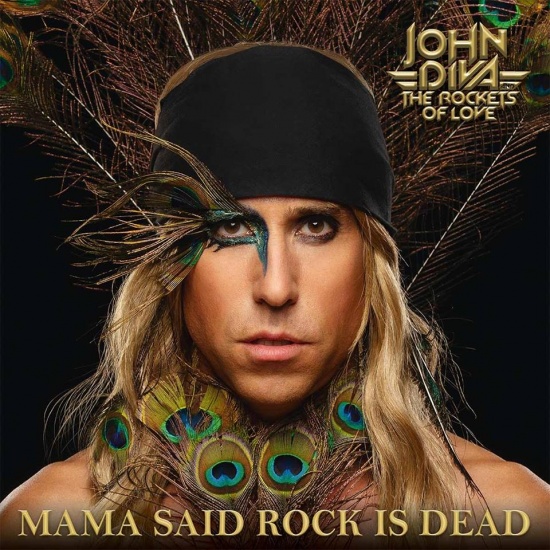 Click here to watch the video of Rock'n'Roll Heaven

We continue in excess, Californian rock in all its splendor with the sublime Fire Eyes, with here again an infallible refrain. The guitars are beautiful and the solo absolutely irresistible. THE title of the album. A weak title? No, I don't think so because Get It On gives us the pulse of its divine melodic rock. A source of youth. The bass and the drums are one. No frills, everything for rhythm and music. Long Legs In Leggings is a perfect example of pure and direct rock.

Just as we take, with pleasure, in the face, a perfect Toxic, melodic but powerful. A rock uppercut. We finish the album with Rocket of Love, a rocket made of guitars in fusion.

I repeat, this record will not change the face of rock and music in general, but for almost fifty minutes we take a huge pleasure to listen to these twelve pieces well written, well worked and executed, made by sincere musicians and talented. They even managed, with respect, to prove to mama that rock is not dead!
John Diva - vocals
J.J. Love - guitars
Snake Rocket - guitars
Remmie Martin - bass
Lee Stingray - drums
Tracklist :
01. Whiplash (3:31)
02. Lolita (3:52)
03. Rock n' roll Heaven (4:09)
04. Wild Life (4:03)
05. Blinded (4:00)
06. Dance Dirty (3:58)
07. Just a Night away (4:06)
08. Fire Eyes (4:38)
09. Get it on (3:56)
10. Long Legs (3:32)
11. Toxic (3:25)
12. Rocket of Love (4:03)
Click here to visit the facebook page of John Diva & the Rockets of Love
Photo : Kathrin Popanda
Published on february 10, 2019