Tracii Guns - Interview
R'n'R : When and how did you discover guitar ?

TG : I was 5 years old the first time i heard Whole Lotta Love and I got a little nylon string acoustic shortly after .

R'n'R : When and why did you decide to be a professional musician ?

TG : Music chooses you not the other way .

R'n'R : What are your principal influences ?
TG : My most obvious ones are Jimmy Page, Jimi Hendrix, Randy Rhoads and Eddie Van Halen. My current favorites are Jared James Nichols, Joe Bonamassa and Black Metal Guitarists like Ole Luk from Afsky and Solbrud .

R'n'R : How were you involved in Guns'n'Roses ?
TG : Axl Rose and I changed the name from LA Guns . Anybody can google this question . 🤣😂🤣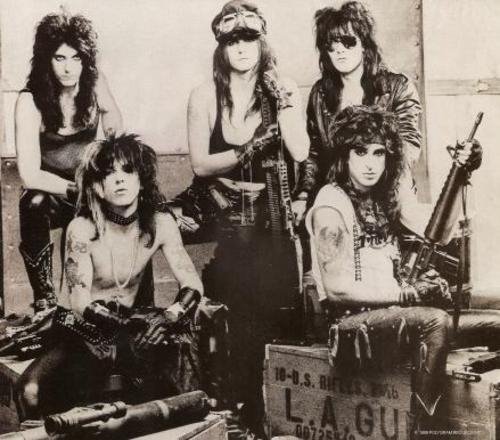 R'n'R : How did you form LA Guns ?

TG : I formed LA Guns in 1982 with my high school friends Dani Tull on bass, Michael Jagosz on vocals and Rob Gardner on drums .


R'n'R : What was your state of mind when LA Guns released the two first albums (LA Guns
and Cocked and Loaded). Did you expect to such a success ?

TG : I was just happy to be making records. I was 20 years old when we got in the studio. That was exciting.

R'n'R : Why Phil Lewis left the band and why there was two LA Guns ? wasn't it a weird and
strange situation ?

TG : I left the band in 2002 to explore new music with Nikki Sixx. Yes it was dumb to have two bands with the same name.
Photo : Joe Schaeffer Photography

R'n'R : Are you interested by writing an autobiography ? You surely have many adventures
and anecdotes to tell.
TG : I have an autobiography it's called Facebook
R'n'R : Explain why Jimmy Page is a huge influence for you.

TG : He's just written a bigger catalogue of interesting rock music than anyone else and the fact that he's been so successful as visionary is very appealing to me .
R'n'R : How Phil Lewis rejoined LA Guns ?
TG : In 2016 we were asked to play an anniversary party in Las Vegas together and we realized at that point that it was probably time to get it together the right way .

R'n'R : Was Phil Lewis involved in the creation of The Missing peace or did you work alone
for the making of the album ?

TG : I only write music. Phil and Mitch Davis our co-writer wrote all of the lyrics and melodies .

R'n'R : Made in Milan is a killer live album. Why did you record a live album and why did
you choose Alessandro del Vecchio to be the producer ?

TG : Thank you !!! It was part of our recording contract with Frontiers. Ale did a great job . The label chose him .
Click here to watch the video of No Mercy live in Milan
R'n'R : Please Tracii tell me why LA Guns is not bigger than Guns'n'Roses ? LA Guns have powerful songs and you are a fantastic composer.
TG : Again thank you. I think Appetite For Destruction was the right album with the right band at the time. Rock'n'roll is a social mirror. It was a very mature and honest angry album .
R'n'R : Are you still involved in Devil City Angels with Branfon Gibbs (Cheap Thrills), Ricki Rockett (Poison), Eric Brittingham (Cinderella) ? It looks like a supergroup. Is it a side project ?

TG : That was a really fun project. I dig the album we made. Ricki and I put that together originally as a joke band called Guns N Rocketts suggested by Jeff Scott Soto.
Click here to watch the video of All My People by Dead City Angels

R'n'R : What's the story behind The Flood's The Fault of The Rain, which is a wonderful song ?
TG : It's about a woman taking control of her life and murdering her abusive partner with a Maltov Cocktail. I love that song. It's very dark .
Click here to watch the video of The Flood's The Fault of The Rain
R'n'R : L.A. Guns' new album will be out on march the 29th, this is an album with rage and anger. It seems like the first album of a teen band. What was the atmosphere in the band during the recording ?

TG : Rock'n'roll isn't always sexy. Wait, yes it is. I think this album was just more focused based on the reaction of The Missing Peace. Our fans seem to lean more toward our aggressive side and that's where our heart is as a band.

R'n'R : How do you work your guitar sound ? Do you still use "old" techniques or actual techniques ?

TG : This new album was very old school . I used my RJS Amplifier which is like the perfect plexi style amp. No pedals. I used my Les Paul's and My Chubtone guitars mainly. Very simple and very effective .
Click here to watch the video of Stay Away from The Devil You Know
R'n'R : Another Season In Hell seems an homage to Jimmy Page. Is it ?
TG : The title is a misprint that will live forever hahahahaha. The title is One More Season. To me I get much more of an Alex Lifeson. But, I guess he is a big Page fan as well so it makes sense. A lot of people have already said that is the greatest song we have ever recorded. I don't know but, it's definitely a good one .

R'n'R : In your opinion, what are the differences between The Missing peace and The Devil You Know ?

TG : I think the main difference is that The Devil You Know is probably a lot more focused sounding and all of the songs were written in a 6 month period whereas The Missing Peace was 12 years worth of various writing I had done .
Click here to watch the video of The Devil You Know live

R'n'R : In 2019, L.A. Guns is alive and well. What do you wait from The Devil You Know ?

TG : It's an album we are proud of and we know LA Guns fans will be very satisfied.
R'n'R : Will you tour around the world or just in the USA ?

TG : Always world tours :)
R'n'R : Thank you Tracii i really appreciate you take some of your precious time to answer my questions. The Devil You Know is a great and killer album. Thank you.
TG : Thank you my friend

Love, Tracii
Published on march 13, 2019