Matt Elliott - Farewell To All We Know
Just yesterday, I didn't know about Matt Elliott. And I knew nothing about him. It is by rummaging in records trays that I come across this record sleeve, without any indication on it. Except on the side of the cover where it says Matt Elliott Farewell To All We Know. Intrigued, I bought the album.

Matt Elliott is an Englishman, originally from Bristol, but now living in France, in Nancy. Outside of a solo career, he produced and recorded electronic music records under the name of The Third Eye Foundation. As a solo artist, Matt Elliott is a follower of dark folk, fragile by his musicality and strong by his deep voice. He has already played with Yann Tiersen, and produced about ten solo albums before Farewell To All We Know.
Video of Farewell To All We Know
Ten titles illuminate the folk of the englishman. What Once Was Hope is a short instrumental and Farewell To All We Know is the real first title of the album. It is a title led by an acoustic guitar, reminiscent of the Middle Ages and Spanish. Matt is brilliantly surrounded by David Chalmin on piano, Gaspar Claus on cello and Jeff Hallam (Dominique A., John Parish) on double bass. Matt Elliott's voice seems to come out of the bowels of the Earth, in complete contradiction with the softness and finesse of the music. The piano is almost shy and the cello provides this cozy and beautiful atmosphere, so beautiful. The guitar parts are majestic throughout the album, The Day After That is a magnificent example. It's almost a languid tango. Everything is skilfully millimeterized. Nothing too much. The fragility carried by Matt Elliott's deep voice. A voice that almost asks for forgiveness to live.
Guidance Is Eternal is guided by the cello of Gaspar Claus, but lovers of pretty guitar parts are not to be outdone. Matt Elliott's music carries an inordinate romanticism. Each composition is a dance, a hope, a new life. Bye Now opens with a sumptuous part of acoustic guitar before the twilight voice of Matt Elliott comes to remind us of it. Hating The Player And The Game is darker, more hypnotic. But still with brilliant flamenco influences in the guitar playing. Listen carefully to the headphones all the sounds that come here and there to ennoble our ears.
It is a fabulous aesthetic and it is not the instrumental Can't Find Undo that will disappoint us. Blizzard, ghosts, everything is there, skillfully orchestrated by the guitar and the haunted cello of Gaspar Claus. Yes, it's true the voice of the englishman makes me think of that of Master Leonard Cohen. To be convinced, just listen to Aboulia, a sad and heartbreaking lament, but oh so beautiful that could be part of a soundtrack to illustrate a snowstorm in the steppe. Acoustic guitar parts alone are worth the purchase of this record. At their side, the cello cries, suffers, tears. Magnificent.
Crisis Apparition is in two parts: sung then musical, in a long rattle made of synthesizers. All overwhelmed with emotions. And we end in beauty with a ray of light. A halo in the storm. The Worst Is Over.

A superb album, made of shade, light, beauty, hands stretched out towards the blazing sun. Thank you Mr. Matt Elliott for helping me believe in a future of music. Lovers of folk, acoustics, guitar or simply music lovers, Farewell To All We Know is made for you.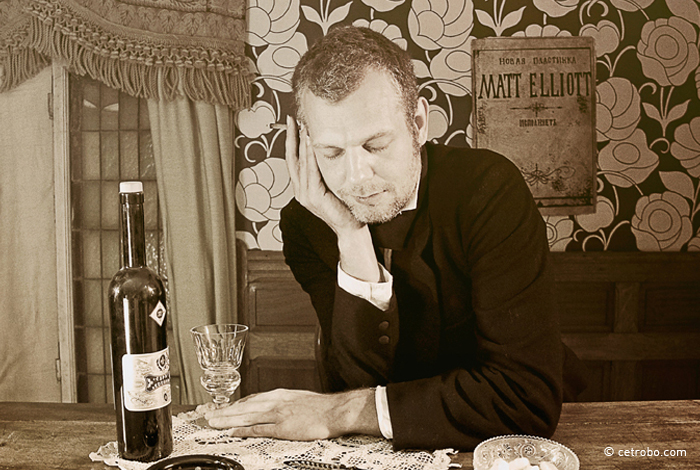 Published on june 13, 2020