Maneskin - Teatro d'Ira Vol. 1
Måneskin ("Moonlight" in Danish) is an Italian rock band composed of Damiano David (vocals), Victoria De Angelis (bass), Thomas Raggi (guitar) and Ethan Torchio (drums). The band was founded by Victoria De Angelis, whose mother is Danish, and by Thomas Raggi. Its participation in X Factor allows the band to be signed by Sony Music. In 2018 the quartet released a first album entitled Il Ballo Della Vita and its victory in the Eurovision Song Contest in 2021 with the song Zitti e Buoni opened the doors to an international career.
The Italians have just released their second album entitled Teatro d'Ira Vol. 1. The album consists of eight tracks, six in Italian and two in English. Zitti e Buoni is the first title. Sharp riff, big drum sound, huge bass. Yes that's right, indeed, the intro sounds like the riff of You Want It You've Got It by The Vendettas. Maybe that means that Italians have good taste, I'm not here to judge them, the history of rock'n'roll has proven for seventy years that everyone more or less copies everyone. In any case, Zitti e Buoni is a good song, very rock and Damiano David excels in his singing.
Coraline slows down the rhythm, the guitars are very clear, the voice more calm. Romantic Italian rock in all its glory. The guitars are more aggressive, the rhythm is heavy like a prison door closing behind us. The voice becomes painful, broken. Coraline is a marvel that will haunt you listening after listening. Magnificent. Lividi Sui Gomiti offers an unstoppable riff. Guitars break free, steal, attack, caress, get carried away. The rhythmic, sumptuous, puts you K.O.
Hammering drums, bass that comes to your mind, I Wanna Be Your Slave is a rock on the edge of punk. Wild, fierce, it sometimes reminds me of The Clash and their 80s punk rock. A short and intense track at the same time. In Nome Del Padre is just as wild, insolent, brutal, a real wild beast in freedom with all claws out. And still a phenomenal bass sound.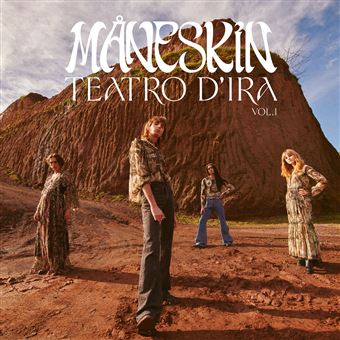 Video of I Want To Be Your Slave
The riff of For Your Love is also aggressive but more melodic. The song is rock, violent, hoarse, modeled on the music and always on an incredible rhythm section. La Paura Del Buio grabs you and won't let go. Sometimes big guitars, sometimes clearer guitars, another short piece with stainless steel bass.
Teatro d'Ira Vol. 1 already concludes with a pure jewel. Vent'Anni is less rock than the other titles but much more melodic and the guitars are splendid and more tame. The choirs offer themselves as a showcase for the voice of Damiano David. In my opinion, the best song on the record. A little gem. Teatro d'Ira Vol. 1 is a short but urgent record, rock, punk with some melodic moments. In the future we will have to rely heavily on Italian rock and particularly with Måneskin. What about the Teatro d'Ira Vol. 2 ?
Published on june 20, 2021