L.A. Guns - Checkered Past
The legal troubles over L.A. Guns' name are now over. As a result, Tracii Guns and Phil Lewis were finally able to record the songs written during the pandemic. Checkered Past is the third studio record (there is a Live and an EP) in four years, following the excellent Missing Peace and The Devil You Know.
The American band, composed of Tracii Guns on guitars, Phil Lewis on vocals, Ace Von Johnson on guitars, Scot Coogan on drums and Johnny Martin on bass, remains in what they had proposed in the very good The Devil You Know but by adding new sounds, and even exploring musical paths in which they had little ventured before, throughout their very long career (remember that Tracii Guns is the co-founder of Guns'n'Roses).
Cannonball, the first title, is very fast, lively, sanguine, and Phil Lewis's voice is more restrained and better put than usual and it suits him very well. Here it's pure L.A. Guns. The bridge remains very inventive and the guitars are fully explosive and numerous. Bad Luck Charm is slower but just as hard rock and breathes the 80s. It's harsh and the riff is very addicting. But things change right in the middle to slow down and the solo is absolutely sublime and original. Jimmy Page is never far from Tracii.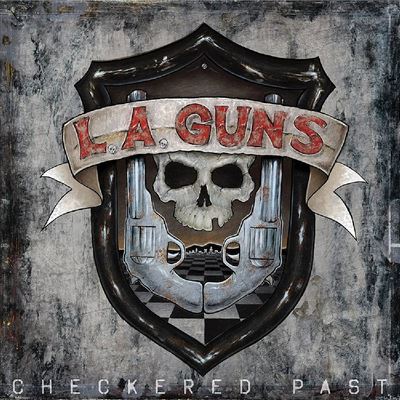 Phil Lewis is surprising on the excellent Living Right Now on which he manages to change the range of his voice. It is a racy hard rock, of great class and astonishing in its arrangements. We slow down the rhythm with the magnificent Get Along with acoustic guitars reminiscent of Going To California by Led Zeppelin. Phil Lewis is impeccable on vocals and the guitars, acoustic and electric are plentiful, while the rhythm is thick like the skin of a rhino. Folk and rock at the same time.
If It's Over Now is a marvel, an extraordinary title. The guitars are heavy and cry at the same time. Phil Lewis takes on Alice Cooper's intonations. A beautiful dark ballad and solo from elsewhere reminiscent of the splendid The Ballad of Jayne. On the other hand, we are heading back to pure hard rock with Better Than You on the already legendary riff. Knock Me Down knocked us out with a good uppercut. Big rhythm and thick guitars. And still an Imperial Phil Lewis. And a wonderful solo as a bonus.
We do not slow down with Dog, fast, rock'n'roll and a furious Phil Lewis. A short but very incisive piece. Then comes the wonder, the masterpiece, Let You Down with a dark atmosphere but so bright at the same time. A pure jewel with a slow, almost fragile and post-apocalyptic rhythm. We can't get enough of it. Five and a half minutes of great listening pleasure. Dark and blazing.
That Ain't Why reverts to Led Zeppelin sounds. A simple but terribly effective and addicting riff and an incredible rhythm. The flight of the Zeppelin of the 21st century. Black Sabbath atmosphere on the last track of the album, Physical Itch. Slow, heavy, it concludes the album on a good note. A good classic hard rock album but sometimes surprising by the sounds and atmospheres offered. Phil Lewis and Tracii Guns are still in great shape and they prove it with this excellent Checkered Past.
Tracklisting:
1.Cannonball
2.Bad Luck Charm
3.Living Right Now
4.Get Along
5.If It's Over Now
6.Better Than You
7.Knock Me Down
8.Dog
9.Let You Down
10.That Ain't Why
11.Physical Itch

Musicians:
Phil Lewis – lead vocals
Tracii Guns – guitars
Ace Von Johnson – guitars
Johnny Martin – bass
Scot Coogan – drums
Published on november 12, 2021