Gretchen Menn - Hale Souls (2011)
What makes the virtuosity of an artist, a musician, is the gift, the work but also the fact of going to the others, to put at their disposal the work accomplished and especially one must be modest and possess a great sense of humility. Always question yourself and accept to receive and compliments and constructive criticism. In this sense, Gretchen Menn is a virtuoso because not only she is an accomplished guitar player but she works every day her guitar, her art and she does everything to enrich her artistic life. After playing in the AC/DC tribute band, AC / DShe, she is now playing in Zepparella, a tribute band of Led Zeppelin, founded by the drummer Clementine. Clementine and Gretchen were both in AC / DShe.
Gretchen Menn by her talent, her kindness, her humility knew how to make a place for herself in the macho world of guitarists. She is friend with many of them, she played with Steve Vai, Tracii Guns, Steve Morse, Stuart Hamm, who plays on Hale Souls (ex-bassist of Joe Satriani). By her musical and intellectual curiosity, the young woman masters many styles, ranging from rock, hard rock, classical, jazz, gypsy and many others. Before Abandon All Hope (2016), Gretchen released in 2011 a first solo album titled Hale Souls. Ten tracks rather rock, even metal, yes but not only that. Ten amazing instrumental pieces of maturity and diverse and varied influences.
Gretchen recorded this record because she had music in her head and she thought it was a shame not to record it. She was apprehensive because recording an instrumental album requires a lot of technique. She ignored all of this and embarked on the adventure.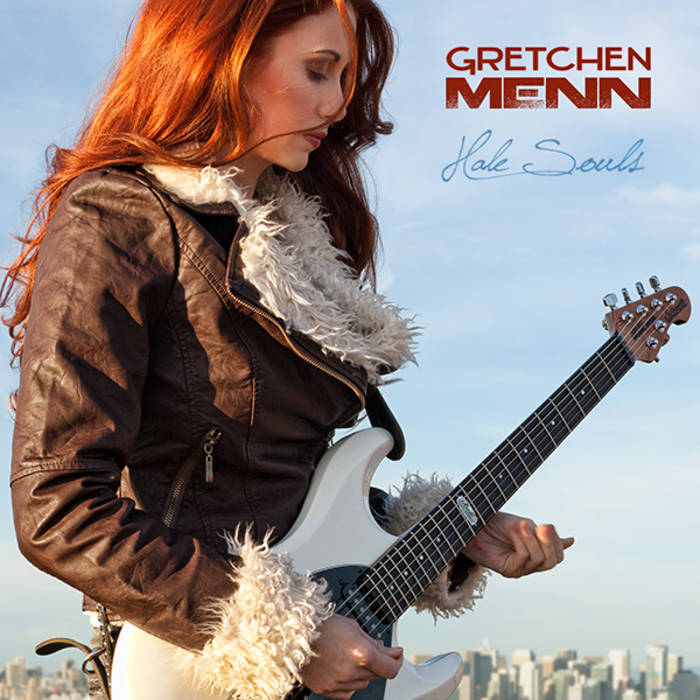 Scrap Metal is a rock with obviously a lot of guitars, a heavy and light rhythm at a time. You can feel the influence of guitarists like Marty Friedman or Jason Becker, guitarists capable of creating special atmospheres. Scrap Metal is the perfect piece to start a record and get to know Gretchen Menn's playing style. Metal yes but always melodic. Oleo Strut is more rock'n'roll, Gretchen assimilates perfectly and quickly several styles of music that she likes. The guitar / bass exchange (Stuart Hamm is a huge bassist) is a brilliant idea. Eddie Van Halen taping is learned, mastered and well digested.
Déja Vu is splendid. Acoustic arpeggios blending beautifully with electric guitars. The hovering electric side is absolutely wonderful. In fact Déja Vu is a trip. An invitation to dream and rêverie. Stuart Hamm's bass solo is technically beautiful without ever being annoying. A lot of classic influences in the so-called Valentino's Victory Lap rock that gives way to a high precision riff. I feel in the middle of the song the influence of Jimmy Page, one of Gretchen's heroes with Steve Morse. We do not get bored because it's never repetitive, we go from one atmosphere to another by following the notes and adventure Hale Souls is beautiful.
The art of acoustic guitar is a difficult exercise. Many "electric" guitarists fall into the trap of the acoustic guitar because they don't work enough or not at all. Yet with Fast Crowd, we feel that Gretchen Menn masters the acoustic playing. Fast Crowd is a kind of fast country rock with accents of classical music. Perhaps here are some influences of the great Albert Lee. Is It Not Strange is a fine example of Gretchen Menn's love of classical music. Bach, Paganini, and Swedish maestro Yngwie Malmsteen are certainly not far away.
We return to the pure and hard metal through Captured Barricades on which the rhythm section Stuart Hamm, John Mader shows the extent of knowledge and unity. Joe Satriani is not far off listening to an interested ear that his music is emulated. Walking Shadow is amazing since the whole piece is played on ... violin. By Emily Palen, a talented American violinist. Interlude and eclecticism at once. We find the violin but this time accompanied by metal guitars, at first, but soften after. The piece is called Struck Sleepless. Jeff Beck's influence and sound, another huge influence of the Californian guitarist. The metal sound of the electric guitar blends beautifully with the violin. We imagine the images of a movie.
Fading is already, the last title of Hale Souls. Classical guitar, violin and the diaphanous and perfect voice of Kirsten Menn, soprano and sister of Gretchen. I don't know why but this song reminds me of the scene where men are singing accompanied by a violinist who cries when Lee Van Cleef gets hurt by some wicked fake soldiers in The Good, The Bad and The Ugly. In any case, beautiful mastery of taping and once again the nylon string guitar. Calm, voluptuousness, beauty, femininity.
Gretchen Menn did well to record the music she had in mind. An instrumental album never boring, diverse, where the beautiful Californian shows the various extents of her multiple talents, musical and composition. Her innumerable influences and inspirations have served her, she uses to make an original music and that pleases the ears. We ask for more.
Personnel :
Gretchen Menn – guitar, Stu Hamm – bass, John Mader – drums, Emily Palen – violin
Guests :
Angeline Saris – bass on Scrap Metal, Jude Gold – second acoustic guitar on Fast Crowd, Kirsten Menn – voice on Fading
Published on august 25, 2018