Bruce Springsteen - Letter to You
If we asked Bruce Springsteen why he still releases records, why he still writes, why he still performs on stage, I'm pretty sure he would say he has no choice, that he has to move forward, even at seventy-one. So, six years after High Hopes, two years after On Broadaway and one year after Western Stars, the Boss reunites his legendary E Street Band and records in four days his twentieth album entitled Letter To You (the fifth day was used for listening to the album). All in his personal studio on his New Jersey ranch.

Twelve tracks recorded under live conditions including three compositions written in the 70s, "old" compositions that do not differ at all in the face of newly written songs (during confinement). Leaving politics and social themes behind, Letter to You is almost a testamentary record. He talks about himself, about the people he has lost, about old age, about brotherhood and above all about the fact that he still has things to say and so much music in him. So we listen to it because Letter to You is a magnificent album, rock'n'roll, well produced (with the help of Ron Aniello), touching, poignant, like the ballad One Minute You're Here which opens the album. and whose main term is the afterlife. A ballad that opens a Bruce Springsteen album, it's rare enough not to be reported. A marvel with its acoustic guitars, Roy Bittan's always magical piano and strings.
Listen to Letter to You on Spotify
Letter to You (the song) takes us back to the blessed days of The River. The whole E Street Band is in great shape, led as it is by the extraordinary performances of Max Weinberg on drums and Roy Bittan on piano. Admittedly, Bruce's voice is less powerful but he adapted it with intelligence and it is touching sincerity.
Rock 'n' roll guitars on a fast Burnin 'Train, pure E Street Band in text and music. The big guitars are out, the excellent and underrated Nils Lofgren well put forward. As for Janey Needs A Shooter, it was written in the '70s and could appear without blushing in The River. A mid tempo carried by the sumptuous piano of Roy Bittan and the guitars of Nils Lofgren and Stevie Van Zandt.

Bruce Springsteen's first group was called The Castiles. And the last living member (besides Bruce) was George Weiss. The latter died in 2018 and Bruce Springsteen wrote Last Man Standing. A vibrant tribute to his lost friends in this song, even if it remains rock, it gives you goosebumps. Jake Clemons, the nephew of Clarence, another deceased, delivers us some sumptuous sax parts.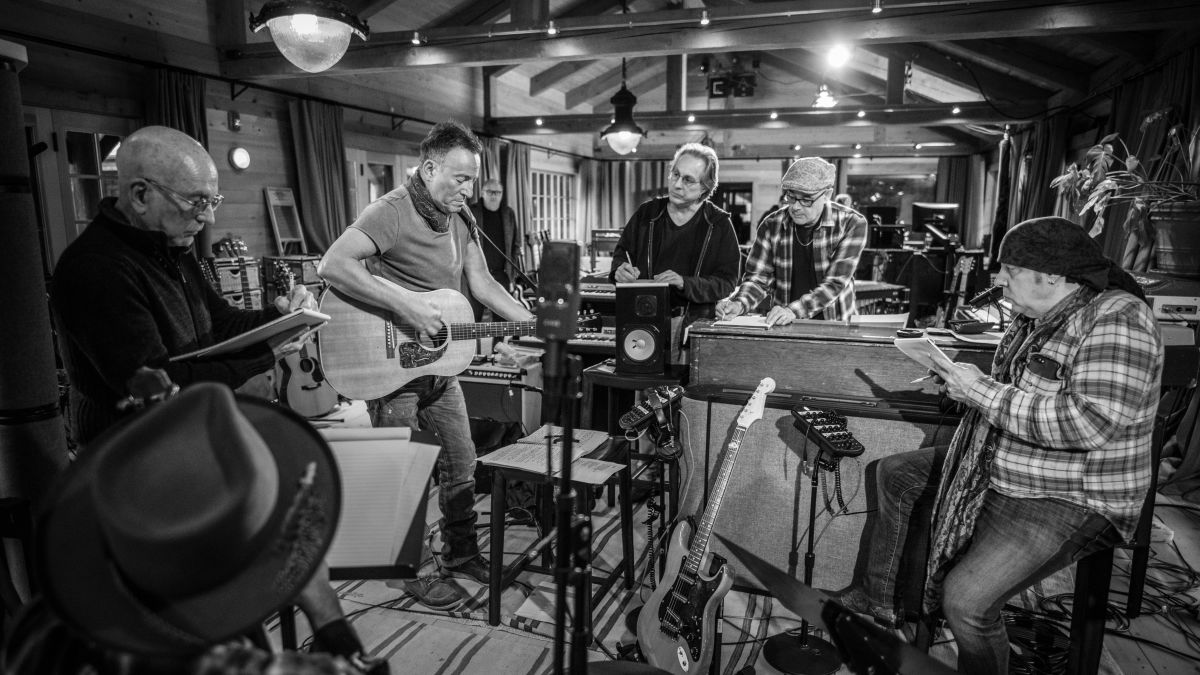 After an intro on the piano, everyone is well present on this very energetic The Power of Prayer, which is made to be played live, to be shared with an audience that has always been loyal to its Boss for 50 years. The guitar/piano exchanges give way to a very beautiful sax solo from which the ghost of Clarence Clemons shines through.

House of A Thousand Guitars is a nostalgic track, but behind this nostalgia appears hope, as always with Bruce Springsteen. Lots of piano, organ, guitars of course and exceptional backing vocals. And the Boss's voice almost crying at the end. Change of style with Rainmaker (a political piece), a hymn with many guitars, carried by the organ of Charlie Giordano, the late Danny Federici's replacement in the E Street Band.
If I Was The Priest was also composed in the 70s. An absolutely wonderful long track where everyone gives of themselves. From organ to piano, guitars to drums and bass, the whole E Street Band is in tune with its Boss. A title that would not have denied a Bob Dylan of the 70s, also a follower of long texts.

Ghosts is another allusion to those dear departed. "Meet you brother and sister on the other side" he balances on a rock'n'roll rhythm, far from whining and regrets. Bruce Springsteen doesn't stop, he has to move on. Song For Orphans is the third track that comes straight from the 70s. Dylan's influence is clearly visible here too, especially thanks to the contribution of the harmonica. A nostalgic song too, with moving choirs.
To celebrate life, friendship, but also the passing of time, inexorably, we close this Letter to You with I'll See You In My Dreams, a positive, cheerful song. It's about death but don't worry "I'll see you in my dreams" reassures us Bruce Springsteen on rock'n'roll guitars.
Each time Bruce Springsteen released out a record, we tell ourselves that this time he's going to miss it, release the album he didn't have to, but no, every time we get screwed. And that's good. The Boss has released an album here that is more focused on himself, more introspective than usual, but he never cries about his youth, his missing friends and the time that passes. Letter to You is more direct, pure rockn'roll than the sophisticated Western Stars was. It's a homecoming, but with modern production and sound, moving forward, while remaining respectful to the story and life of Bruce Springsteen.
Published on october 24, 2020